Mason Knight Projects
Below are some examples of our recent work:
Structural & Renovation Works on 7 bedroom detached dwelling - Grange - Over - Sands - April 2021
Covid restrictions eased late summer 2020 and substantial renovation works commenced on a large detached period dwelling.
Renovations to the external included construction of a small extension - roofing construction and external period stone pointing with rendering to gables.
Internal works undertaken included stone walls removed with lintels fitted - period details fitted. Plastering and flooring with other associated works.
Structural alterations to form a larger area for a kitchen/diner - Bardsea - F eb 20
Structural alterations to remove internal walls to form a large kitchen/diner.
Customer recommendation in reviews.
S
tructural alterations to form a large kitchen area - Ulverston - Jan 20
S

tructural alterations to remove internal stone walls and installing
steel to openings and forming a large open area for a large kitchen.
Phase 2 commencment March 20
Basement conversion tanked and underpinned - Grange-Over-Sands - Jan 20
October 2019 work commenced on a basement to form a large kitchen area.
Groundworks commenced to excavate the basement of a large terrace prperty.
Property basement was underpinned.
Basement required a tanking system to newly formed rooms.
Phase 3 commencment May 20
Large extension incorporating two lantern roof lights - Ulverston - Dec 19
J

uly 2019 Mason Knight Construction Ltd commenced work on a large single storey extension.
T

he large extension to the main house has been built to incorporate a large kitchen and dining area with a utility room formed as well as a separate large shower room.
We installed two large roof lanterns into the new flat roof.
External works were undertaken to renovate and underpin a garden wall.
A block paved area will provide hard standing for cars.
Customer recommendation in reviews
Barn renovations Phase 1 and 2 undertaken - Crosthwaite - Completion Aug 2019
Jan 2019 Mason Knight Construction Ltd continued with the renovation and restoration of a barn outbuilding as a phase 1 project.
Barn stone walls were revealed and pointed and finished internally and externally.
Original stone was laid to form ground flooring.
An upper mezzanine floor was installed to form a bedroom. Access via installed bespoke staircase.
The lower area was divided into a living area with log burner a breakfast area and a separate washroom with shower.
The stunning completed barn provided additional multi-purpose accommodation.
Phase 2 commenced in the Spring on the adjacent barn attached to the main house.
A new slate roof with roof lights was installed to the adjacent barn .
With completion of a new roof work could commence on the restoration of the upper floor to form a master bedroom and ensuite.
A new access was formed to link through to the main house.
Original oak features were restored and the stone walls were renovated and pointed.
We formed an external access through installed oak patio doors onto a newly laid patio area.
Restoration and renovation works were competed in September and passed by Building Control.
Single storey purpose built extension for disabilty use - Flookburgh Completion May 2018
Facilities provided for disability access in the new purpose built extension included a master bedroom with ensuite.
Single storey extension & alterations to bungalow - Bardsea - Completion June 2018
A single storey extension on a bungalow commenced in May 2018.
Alterations internally incorporated a master bedroom with ensuite and alterations to an existing bedroom.
Customer recommendation in reviews.
Examples of work in progress on bungalow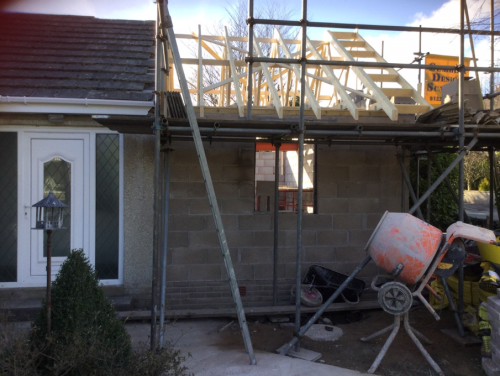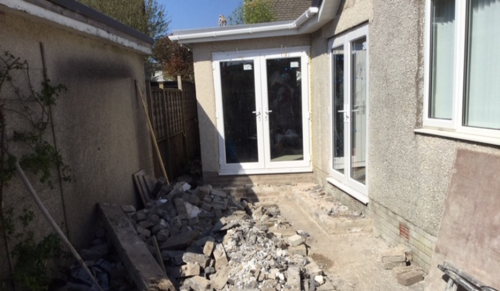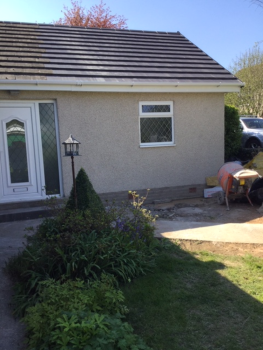 18th Century Cottage two storey extension and alterations - Commenced Aug 2018
A Large two storey extension and alterations were undertaken in Urswick on an 18th century cottage. The property floor area was increased significantly allowing existing rooms to be reconfigured and an ensuite to a bedroom to be included. A wooden stairway was installed to the newly formed upper floor areas.
Customer recommendation in reviews
Dwelling Extensions Alterations & Refurbishment Tanking Works & Small Extensions undertaken in 2017
In 2017 Mason Knight Construction Ltd undertook a number of alterations and refurbishment works plus a small extension.
A stone cottage in Bouth was fully renovated to provide rental holiday accommodation.
Alterations were undertaken to a bungalow in Grange to reconfigure bedrooms.
A small office extension was built.
A small single storey extension was built at Lyndene.
Tanking works were undertaken at two properties.
Dwelling extensions undertaken in 2016
In 2016 Mason Knight Construction Ltd undertook major works on a bungalow on Allithwaite Road converting a small bungalow into a large airy two storey property. The extensions significantly increased the living accommodation to incorporate a large kitchen area and dining. The extensions included an exercise room.
Customer recommendations in reviews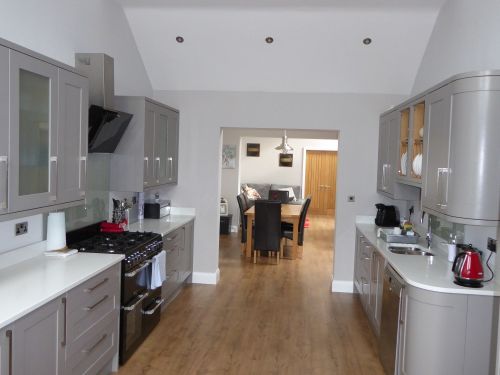 Dwelling extensions undertaken in 2015
In 2015, Mason Knight Construction Ltd built a number extensions in the Grange area, including the construction of a double storey garage and living accommodation with a Sun room annex. The new addition space created a light and warm living environment for the owners, as well as increasing the functionality of the original garage. The preparation of plans, Planning applications, Building Regulations, and the build were all completed in house.
Mason Knight completed several extension and refurbishment projects in 2014 including design and build projects.
HOUSE RENOVATIONS undertaken in 2014
Mason Knight also undertook several large house renovation projects in 2014, including new services installations, full electrical and plumbing, internal remodelling and alterations, Kitchen and Bathroom installations, and feature stonework.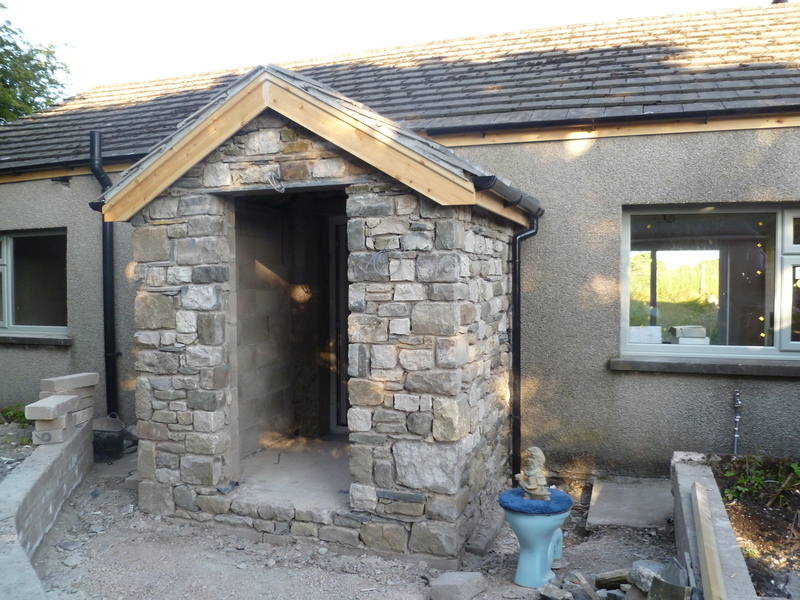 EXTENSIONS AND REFURBISHMENT OF TIMBER HOLIDAY LODGE
At the start of 2013 Mason knight were employed to undertake extensive refurbishment works to an existing timber lodge. The work included extending the property to the front and rear. External work required a high level of craftmanship - ornate external details had to match original features. Internal refurbishment included a new shower room, kitchen and bedroom.
Two recent garage conversions were completed in 2011 and 2012. The first comprised of an integral garage which was converted into a dining and utility room. The second one, also an integral garage, was converted into a bedroom and disabled ensuite and wetroom.
ORNATE FASCIA AND GUTTER REPAIRS TO VICTORIAN TERRACES
New fascia crafted to match the original period feature, and new Cast Iron gutters and downpipes to match the original profile.
LARGE SINGLE STOREY EXTENSION, GARAGE, AND WORKSHOP, Cartmel, Cumbria
A large new extension to the existing dwelling. A detached garage and workshop was also constructed in the grounds. Construction adhered to Conservation Area requirements with a Westmorland green slate roof covering, conservation velux rooflights, and feature stonework.
DISABILITY ADAPTATIONS AND EXTENSION
Creation of a double storey extension incorporating kitchen, dining area, master bedroom with wet room. Disability adaptations were implemented to the existing dwelling to aid progression through the building. Works were undertaken in accordance with Part M of the Building Regulations (Access to and use of Buildings).
GARAGE CONVERSION
Conversion of the existing garage into a dining room and utility room. Planning approval was received as well as Building Regulation approval on completion.
Remodelling and upgrading of two existing flats. After an initial site appraisal, Mason Knight undertook the re-design of the flats primarily to improve the functional layout, obtaining all necessary statutory consents. The flats were refurbished throughout, including new Kitchens and sanitary fittings, to create a modern contemporary feel.
CONSTRUCTION OF A NEW DWELLING
The original dwelling was a dilapidated bungalow. In it's place, Mason Knight Construction Ltd constructed a new luxury three storey dwelling. The entire project was completed in-house with the design, construction, and project management all undertaken by Mason Knight.
The building was an agricultural stable. Conversion works were undertaken to create a luxury dwelling with a large paddock.